What's the best Traeger pellet grill? A better question is: What's the best Traeger pellet grill for you? Most backyard chefs go for either the Ironwood or the Timberline. So we tested both in real-life barbeque scenarios to test out the awesome features and see how their differences make them stand out.
Let's cut right into the meat of the issue. When you're done reading this, your decision will be a simple one.
First, we'll go over the main differences and look at how they affect how much you'll love each grill.
Both of these pellet grills are approximately the same size. The Ironwood 650 is 46" Wx27" Dx48" H. The Timberline 850 has the same width but is just an inch deeper and a few inches higher.
But there is a bigger gap in the actual cooking area. The Ironwood 650 has two cooking tiers, for a total of 650 square inches of cooking space. The Timberline 850 has a third grate, which brings its total up to 850 square inches. If you're cooking huge meals or for big parties, the Timberline 850 may be the way to go.
Traeger is known for its useful and geeky high-tech features. We're going to dive deep into them in this post, but we'll give a brief overview of the differences between the Traeger Timberline and Ironwood now since you're in a rush.
Both the Ironwood 650 and Timberline 850 have the D2 direct-drive brushless fan motor, which you can control with your smart device via the WiFIRE wireless app technology. And they both have a single meat probe, so you can see your temps on your smart device.
The Timberline 850 is a bit more user-friendly when it comes to hardware. It has a concealed grease pan and a steel side shelf with a magnetic strip for holding utensils the way the pros do. It also has better insulation. But the Ironwood 650 has one thing that the Timberline doesn't: hooks for holding unused grates.
Ironwood 650 vs Timberline 850 Comparison
View at Amazon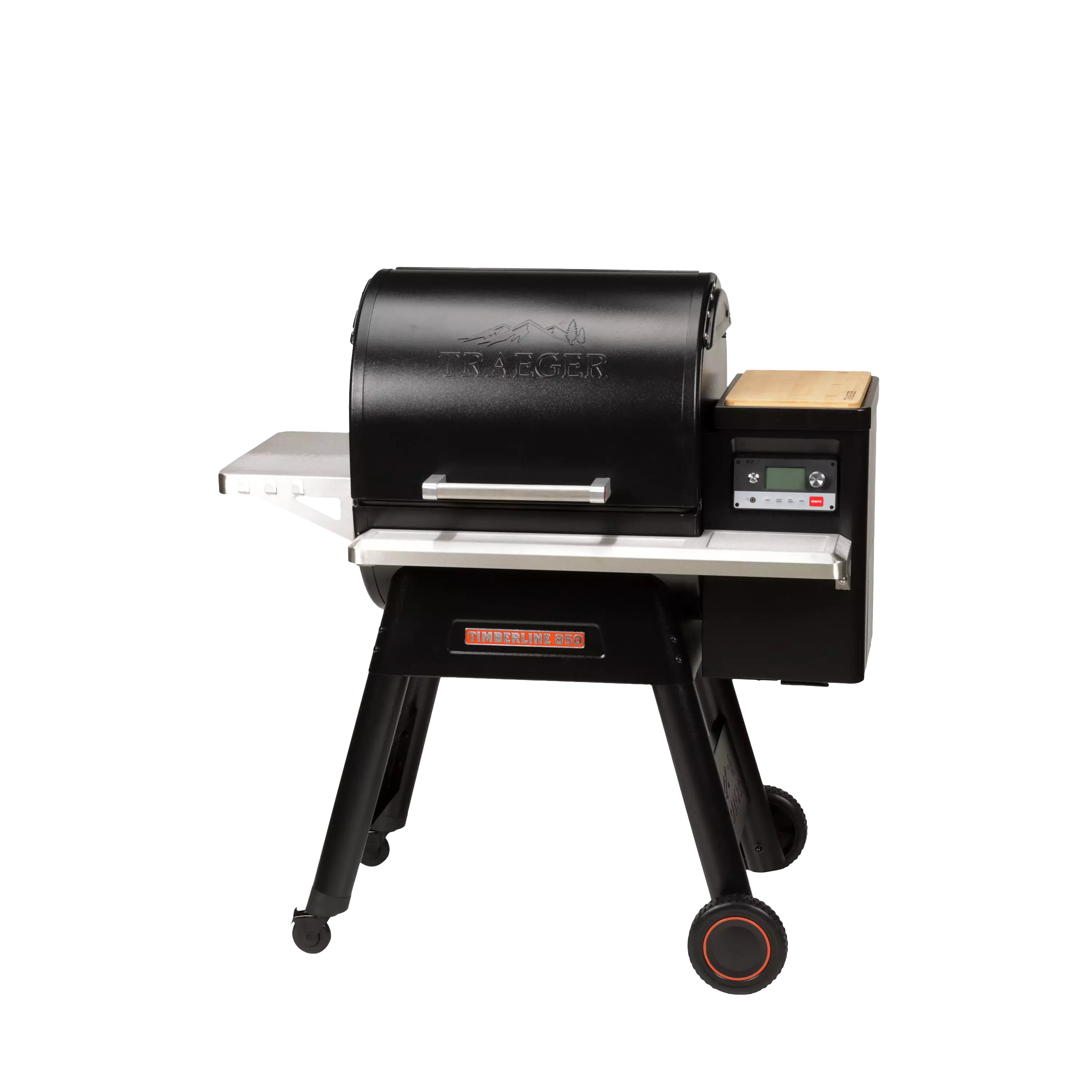 View at TraegerGrills

Now we'll dive into the specifics to see what makes them different and how each one will work for you.
Here's the long-awaited Traeger smoker grill comparison. Know the differences and similarities between two of the company's two most popular models so you can make a great choice. You can sear, smoke, grill, roast, and slow cook with both of them. The differences are in the details.
The Ironwood 650 has enough cooking space for a small family or smaller picnics. And it is among the best budget grills, due to its more affordable $1200-ish price tag. It'll get your cooking done right, just like a high-end smoker and grill combo. This cost versus performance ratio makes the Ironwood a great value for anyone looking to save money and still get a great pellet grill. Its three removable grates also give it an extra bit of versatility.
But while both grills offer an impressive 500-degree upper limit and have the same WiFIRE control and DC fan motor, the Timberline 850 has a better, more solid build and a lot more cooking space for bigger families and events. Its price hovers around $1,800. You pay extra for the better quality and that extra cooking grate. But it may be a better deal for you if you need the extra grate area or are willing to spend more for the best.
Let's talk about construction and durability real quick. Both are made of steel and are fully coated on the outside with black enamel. Both are pretty durable, but the Timberline's steel racks will last years longer than the cast iron one found in the Ironwood. And neither grill is very portable. You'll have to do some disassembly to transport either of these similarly sized grills unless you have a pickup truck or large van.
Unique Features
The Ironwood 650 really only has one feature that the Timberline 850 can't also lay claim to. It has a set of hooks on the back that hold one of its cooking grates if you only need to use one. That keeps your barbeque area tidier.
Your Timberline 850, on the other hand, boasts several unique features that may appeal to you if you want one of the best pellet grills for the money. Let's take a look.
Stainless steel grates are more durable and rust-proof
Concealed grease pan keeps yucky grease hidden
The stainless steel front shelf keeps all your spices organized at your fingertips
Magnetic cutting board lets you do your prep right at your grill and keeps your utensils hanging right where you need them
Benefits
Take a gander at how the Ironwood 650 can serve you.
It'll save you about $600 over the Timberline
You can cook smaller meals without having to store a couple of extra grates away somewhere
It's easier to clean
An easier assembly removes the initial headache of attaching shelves and cutting boards
And the Timberline 850 carries these benefits.
Able to cook meals for up to 20 people
A large hopper holds 24 pounds of pellets for long smoking sessions
Better insulation means fewer temperature fluctuations and better pellet efficiency
A sturdier build will stand up to the elements longer
Easier and more convenient prep work
A more professional feel for the serious backyard griller
Reservations
Both of these cool meat smokers have drawbacks. Understand them so you'll know what you'll be dealing with before making your choice.
The Ironwood 650 has a few cons that you should be aware of. Most of them have to do with the grill's manufacturing process being geared toward being more affordable.
It can only handle enough meat and other food to satisfy a regularly sized family
The grates aren't stainless, which can translate into durability issues down the road
The double-wall insulation doesn't extend throughout the entire shell, which means you'll go through more pellets for the same amount of heat and time
There are no useful shelves or cutting board
The pellet hopper is smaller with a 20-pound capacity
The Timberline 850 is built to last and has some very useful features that can make cooking fun and enjoyable. But there are a couple of bad points.
It's expensive
With three grates and no place to store them, it may be overkill for those who don't normally cook huge meals
We sifted through all of the legitimate online and printed reviews and complaints. What we found seems to be a common theme running throughout this review. You'll see what we mean.
So what did we find people thought while researching this Traeger Ironwood 650 review? Well, people who were looking for simple and affordable premium BBQ grills were very happy with Ironwood. They liked it from assembly to the first cleanup. They like that it gets medium-sized cooking jobs done with no fuss and no fuss.
Most of the brags and gripes we encountered in the Traeger Timberline 850 reviews centered around the features, strangely. Many people liked them. The big shelf and cutting board are very handy, and people love the convenience. But others thought they were too much. Predictably, the people who complained about the handy features are the same who complained about the price. The main point is clear, and we'll cover it in the bottom line.
View at Amazon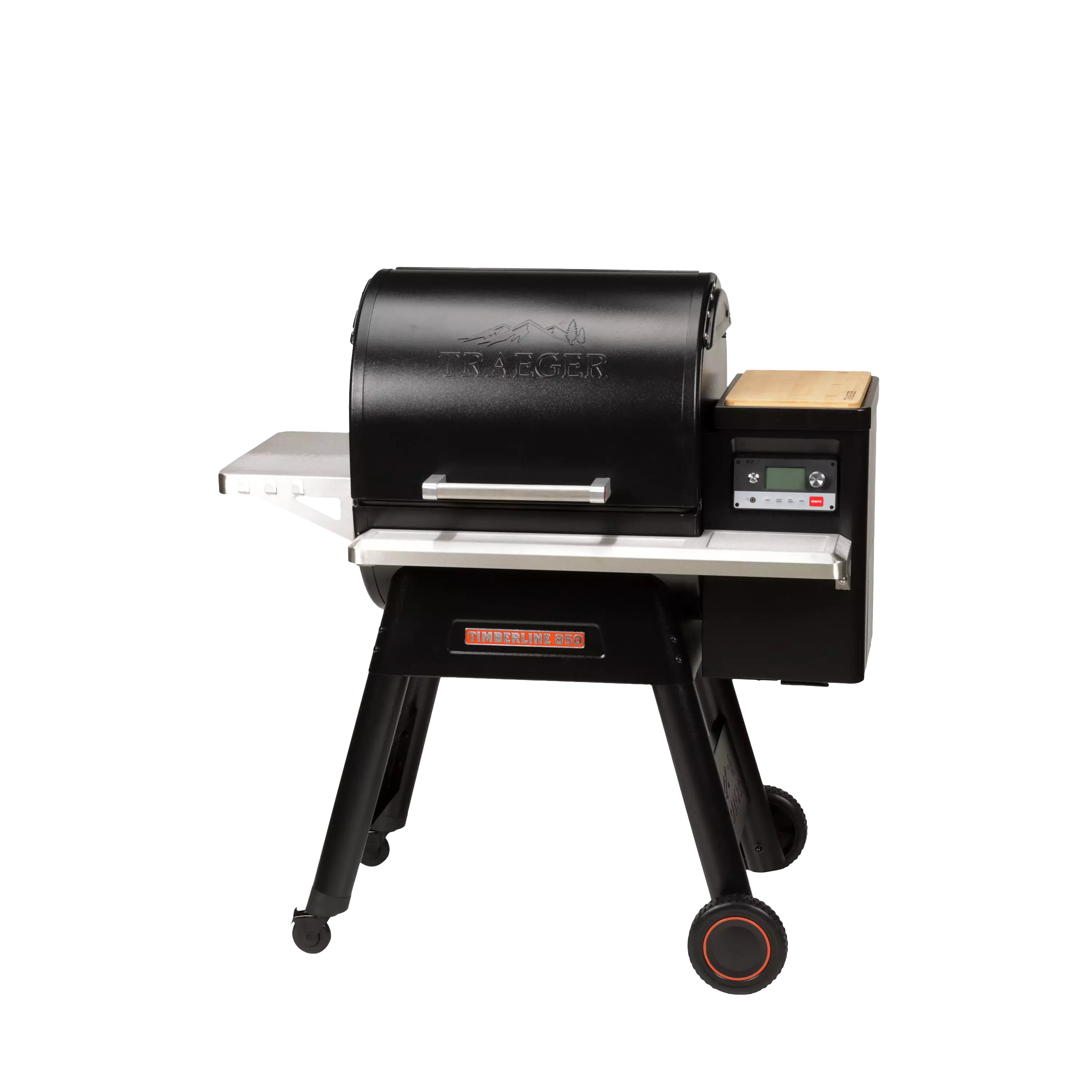 View at TraegerGrills

The Bottom Line
So, which Traeger grill is the one for you? That should have become clear in this post. But just in case it didn't, we'll break it all down to help you with your decision.
Are you looking for a combo grill that is in the realm of affordability, is easy to use, and doesn't have all of the bells and whistles that the most expensive grills have? Then you may well be better off with the Traeger Ironwood 650. It cooks like a demon, but it lacks those little conveniences that some love. But be warned: It will not last as long if left outside.
Maybe you are able to pay extra for better features and more durability. If that's the case, take a good hard look at the Traeger Timberline 850. It cooks much more food with better pellet efficiency. Plus you can do all of your prep and store all of your spices and utensils neatly right there on the grill. You'll pay more, but you'll get more.
If you're worried about durability, all Traeger grills are covered by the same three-year parts and labor warranty. But this won't cover rust on grates. That's considered normal wear and tear.
Before you choose between these two, you owe it to yourself to check out our post comparing Traeger grills to Louisiana, or Z-grills. You may actually prefer one of Z-grill's offerings.
At any rate, the sooner you make your choice, the sooner you'll be grilling, smoking, and making your neighborhood smell great.