Nothing beats a Saturday afternoon spent in the yard, turning some juicy ribs on the grill and savoring the fruits of your labor afterward. If you like grilling, then you certainly know smokers are not created equal. Some smokers are simply better in quality than others.
This article is a comparison of two of the best USA-made pellet grills on the market. We had to sift through multiple popular pellet grill brands to pick the two smokers that are worth your attention. The two that emerged the best are the Yoder YS 640S grill and the Rec Teq Bull RT-700 smoker. Here is an in-depth Yoder vs Rec Teq.
Yoder vs REC-TEQ Comparison:
Yoder YS640s Pellet Grill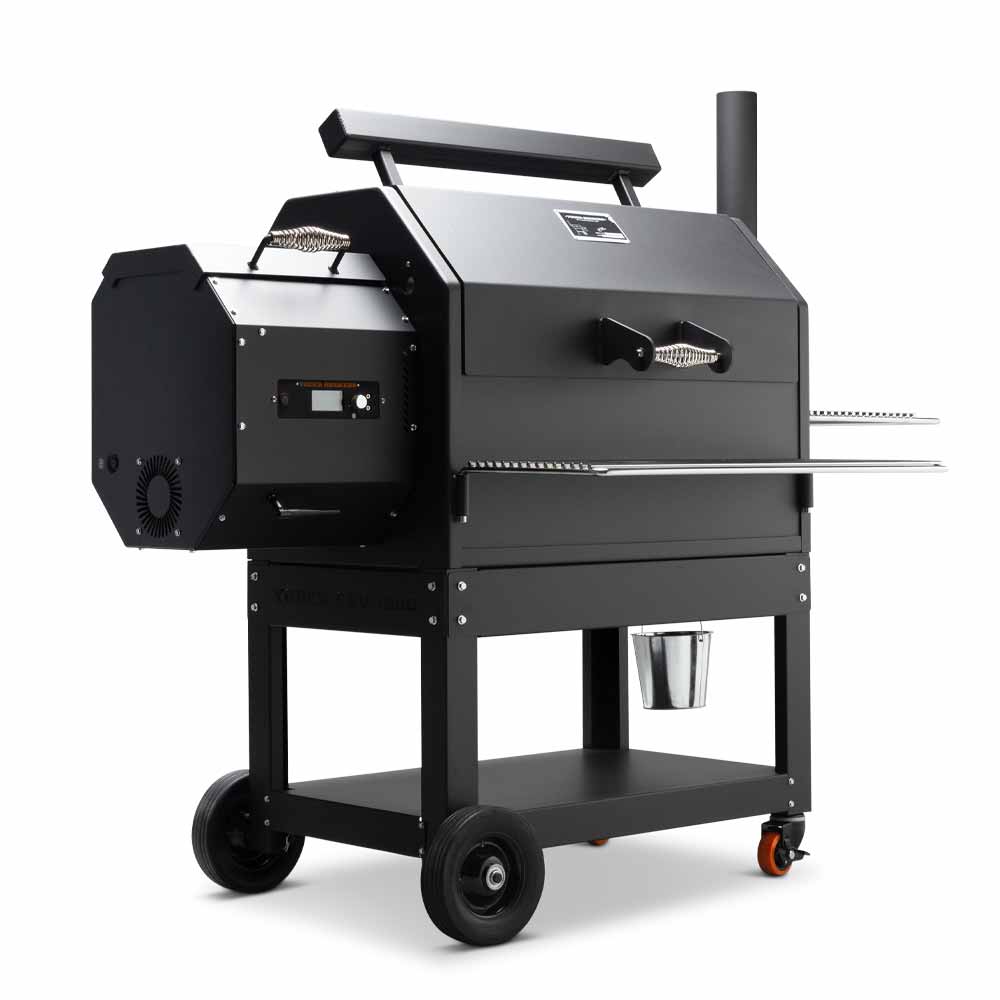 View at Amazon

Yoder is one of the top smoker brands. The company was established in 2007 and is based in Kansas. It has a reputation for producing high-quality products, and the YS640S pellet grill is no exception.
The grill's body is made of top-grade stainless steel, which guarantees durability and longevity. It is also compactly designed and comes with a lot of handy features.
For many buyers, this grill surpasses expectations. There is a lot to love about this grill, from its high-end design to ample cooking space and a horde of helpful features.
However, this is not a product for the budget-conscious buyer. You will spend a small fortune on it, but it will prove to be a worthwhile investment.
Features
Design: The first thing you will notice about this grill is its sleek design. The external surface is made of powder-coated heavy-duty steel, which gives the smoker a shiny, attractive appearance. The 330-pound heavy grill has a 10-gauge cooking chamber. It also has a spacious 14-gauge stainless steel hopper that can hold up to 20 pounds of pellets. If you are looking for a grill that can cook non-stop for hours, this is the product for you. The grill comes with chrome-plated steel grates. This extra layer adds protection, ensuring that the racks do not rust or get destroyed by the fire.
Shelves: This product has front shelves, which add much-needed storage space. It also features handles that allow you to handle it without getting burnt.
Meat Probes: There is also a probe port that enables you to check your meat without having to open the grill hence losing heat.
Cooking Space: One of the aspects that you must pay attention to before you buy a grill is the cooking space. If you intend to use the smoker to cook for a crowd, you should pick one with ample space. If, on the other hand, you want to be smoking ribs for a few people, a smaller grill will suffice. The Yoder YS640S smoker is designed to accommodate a crowd. The primary cooking surface on its 12-inch high chamber cooking consists of two grates, each measuring 16 by 20 inches for a total cooking surface of 640 square inches. This is what the 640 in this product's name stands for. If you want to fit in more meat, you can use the second-level shelf, which measures 15.5 by 28 inches. Talk about a lot of cooking space!
Temperature Control: The smoker has a temperature range of between 250F and 700F. This is quite a wide range, which allows you more control as you smoke your meat. You can go beyond the 700F mark by removing the heat-deflecting plate. This will help you burn the meat at the desired temperature for a better taste. For this, you will need to replace the ordinary steel plates with heavier Aluminum ones.
Access: One of the best things about this grill is the easy access you get to the firepot. By removing the access door to the diffuser, you can sear your meat over a flame.  This is quite convenient because you don't need to tear your grill apart to access the flame. This is one of the features that make this an excellent griller-smoker combo. Additionally, the grill has a variable displacement damper that allows you to control the smokebox's movements. That way, you can distribute or concentrate the heat in the areas you want to.
Wi-Fi: You can also control temperatures on your phone, thanks to the grill's Adaptive Control System with access to Wi-Fi. You can even shut down the smoker using the app. You will also get updates on the state of your meat, which allows you to focus on other tasks as your meat cooks.
Benefits:
It is made of high-quality stainless steel that guarantees durability
Comes with a bottom shelf on wheels for easy transporting
Stay-cool handles that prevent burning
Heavy diffuser plate that doubles as a grease drain for easy cleaning
Reservations:
The grill is prone to rust and scratching
The smoker is rather expensive
REC TEQ Bull RT-700 Portable Wood Pellet Grill
Like Yoder, Rec-Teq is a big name in the smoker-manufacturing industry. The company was founded in 2009 by two close friends, Ray Carnes, and Ron Cundy. This reputable manufacturer is based in Georgia.
The Rec Teq Bull RT-700 grill, in particular, is a superior competition pellet smoker that has a lot to offer the skilled Pitmaster. If you want to show off your grilling skills, there is no better tool to use than this product.
This grill receives overwhelmingly positive reviews, which is hardly surprising given all its excellent features. It is the most reliable pellet grill.
There is everything to love about this product from a lot of cooking space to a well-thought design and discretion when it comes to temperature control.
Features
Design: The thing that grabs your attention as soon as you set your eyes on this grill is the horn-shaped bull handles. They are a classic yet functional signature addition that makes the smoker stand out. This feature also makes it easy to move the grill without burning your hands. Apart from the elegant handles, this Rec Teq smoker generally has a chic appearance and is made entirely of top-grade steel. The lid is powder-coated, which adds to the grill's aesthetic appeal while also making it easy to clean.
Hooks: The grill has various practical features that make grilling an enjoyable task. There is a towel ring where you can hang your towel, a light that allows you to use the grill at any time, hooks where you can hang your tools, heat vents that prevent overheating, and shelves for storage. The designers were incredibly thoughtful when making this grill, and it shows in the final product.
Cooking Space: With this grill, cooking space will never be a problem. The main cooking space allows for 702 square-inch plates, which can fit a whopping six large racks of ribs. If you need extra space, you can use the extra shelf that comes with the grill. In total, you get a maximum cooking space of 1054 square inches.
Hopper: The grill also has a remarkably large steel hopper that can hold up to 40 pounds of pellets. With this smoker, you can cook for forty hours straight without having to replace the fuel.
Temperature Control: This grill has a temperature range of between 200F and 500F. This is not as wide as that of the Yoder, but it still is more than enough. You can exceed the 500F limit by switching to the full mode.
App: You can also control the temperature on your phone using the Rec-Teq app. This app also allows you to turn the grill off if you choose to. In a Pit Boss vs. Rec-Teq competition, Rec-Teq would have the upper hand owing to this feature. Lighting up the grill is also not a hard task, thanks to the automatic lighting feature.
Benefits:
Ample cooking space
Lots of helpful features like internal light and tool hook
Competitively priced
Made of heavy-duty stainless steel that ensures durability
Reservations:
Searing your meat over a direct flame is quite hard with this grill
There is no automatic pellet-releasing mechanism
Final Verdict
So, which is better, Yoder vs Rec Teq smoker? These two products have a lot to offer a grilling enthusiast. Each has its strengths and weaknesses.
Although the Yoder grill has ample grilling space and uses the latest technology to make grilling easy, it also has limited hopper space and is quite costly. If you want to buy a high-quality grill, then this is the product for you.
The Rec-Teq grill, on the other hand, is more competitively priced, comes with a lot of great features, and boasts unparalleled durability.
However, you may not be able to grill your meat directly over the flame, and you may miss out on some of the advanced features present in the Yoder grill. On the whole, however, it is a decent product that is worth trying.